Hungarian Roasted Pepper and Paprika Chicken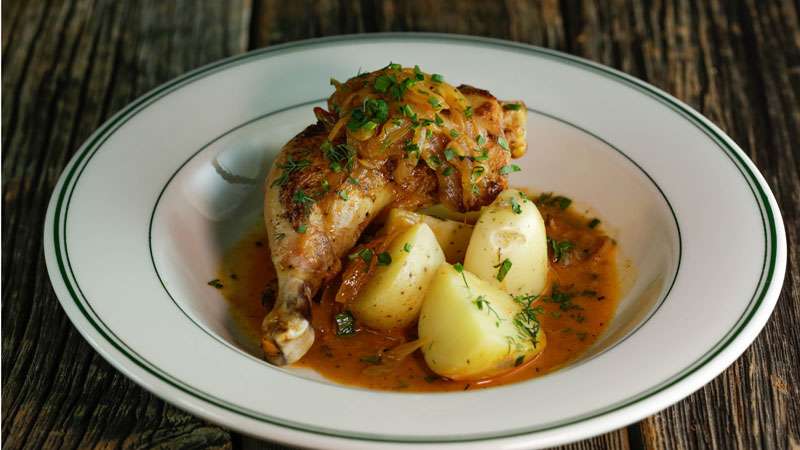 Hungarian Paprika Chicken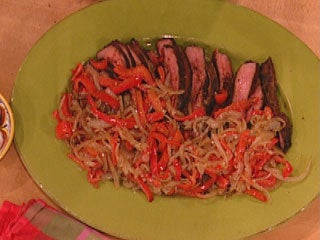 Hungarian Sliced Steak with Brown Butter Gnocchi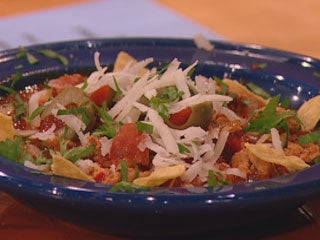 Spanish Chorizo and Chicken Chili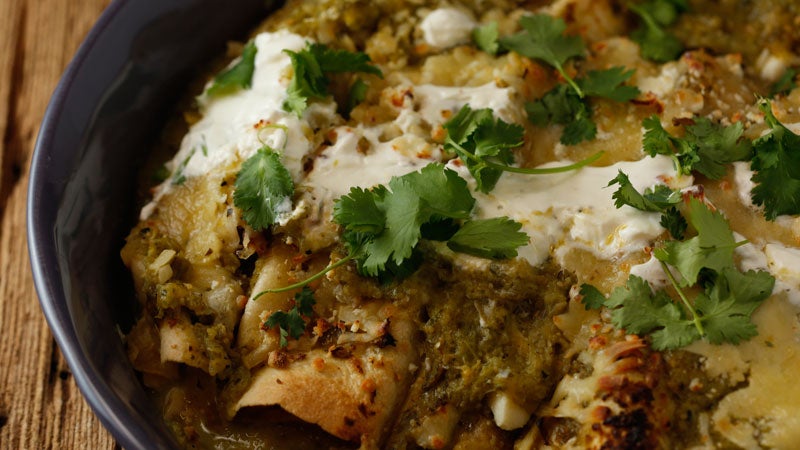 Guy Fieri's Turkey Enchiladas with Fire-Roasted Tomatillos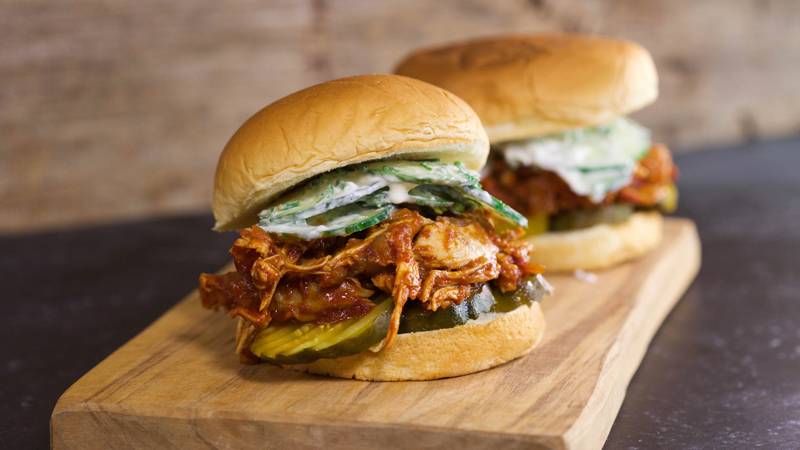 Paprika BBQ Pulled Chicken Sandwiches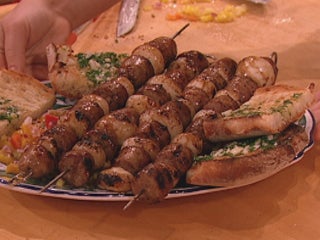 Sausage and Onion Kebabs on Roasted Pepper Salad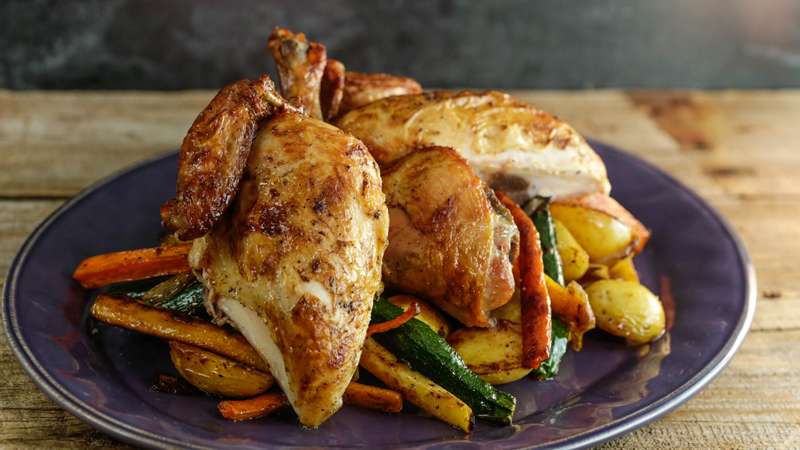 Brined Roasted Chicken and Vegetables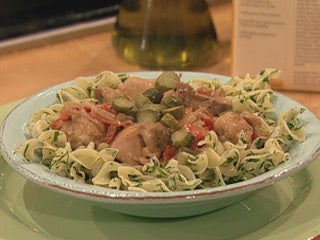 Paprika Chicken with Egg Noodles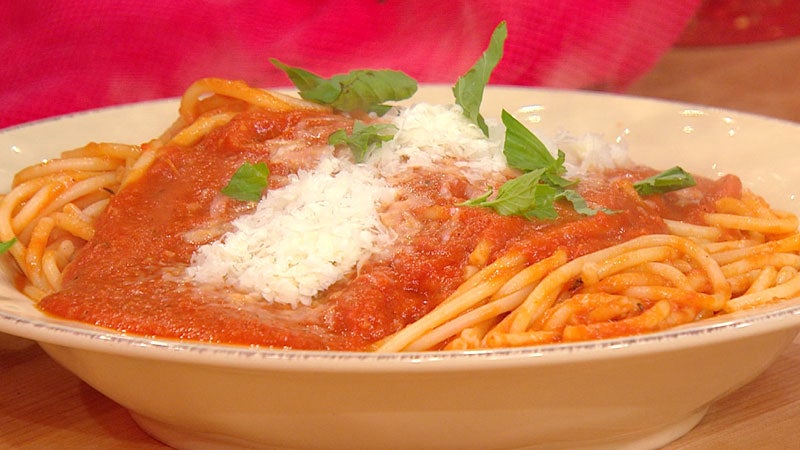 Roasted Tomato, Garlic and Red Pepper Sauce with Pici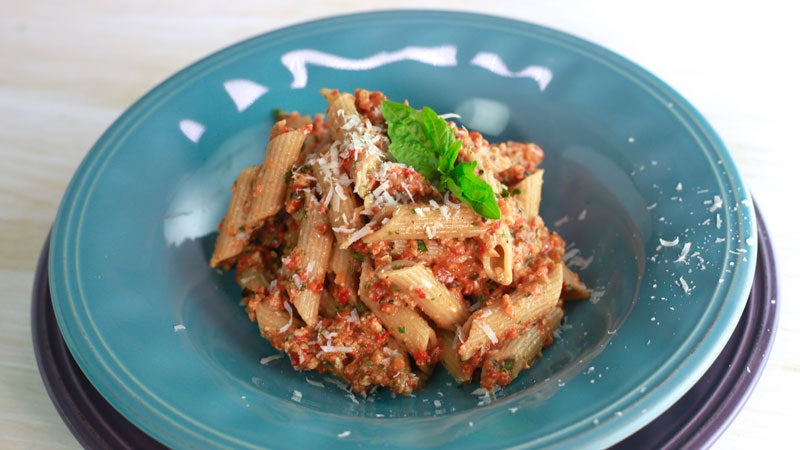 Roasted Pepper and Garlic Pesto with Whole Grain Pasta
Ingredients
2 red bell peppers
1 hot cherry or Fresno chili peppers
1 small onion, peeled and coarsely chopped
1/4 cup flat-leaf parsley, a small handful
2 cloves garlic, peeled
2 tablespoons fresh thyme leaves
1 cup chicken stock
6 tablespoons butter, divided
3 tablespoons flour
1 cup milk
Salt and pepper
1/2 cup sour cream or heavy cream
3 tablespoons sweet paprika
2 tablespoons EVOO Extra Virgin Olive Oil
6 pieces boneless skinless chicken breast or 12 pieces boneless, skinless chicken thighs
1/2 pound Gouda, shredded
1 pound extra-wide egg noodles
1 round tablespoon poppy seeds
1/4 cup chives, finely chopped
Preparation
Roast peppers under broiler with oven door slightly ajar to allow steam to escape. Place charred peppers in a bowl and cover with plastic wrap. Let cool to handle; peel and seed. Place peppers in a food processor with onion, parsley, garlic, thyme and chicken stock. Pure until smooth.
Preheat oven to 375F.
Bring a pot of water to a boil for the noodles.
Melt 3 tablespoons butter in a medium saucepot over medium heat. Whisk in flour, cook 1 minute then whisk in milk and season with salt and pepper. Stir in sour or heavy cream and thicken sauce. Combine with paprika and pepper pure.
Meanwhile, heat 2 tablespoons EVOO, 2 turns of the pan, over medium-high heat in a large skillet. Season chicken with salt and pepper, and brown on both sides. Transfer to a shallow baking casserole, top with sauce and cheese, and bake 20-25 minutes to finish cooking chicken through and brown the top.
While chicken is in the oven, cook egg noodles to al dente. Drain and return them to the hot pot. Toss with remaining 3 tablespoons butter cut into small pieces and season with salt, pepper, poppy seeds and chives.
Serve chicken with egg noodles alongside with extra sauce poured over the top or passed at the table.