Angie and Jenn's Sweet Home Mexico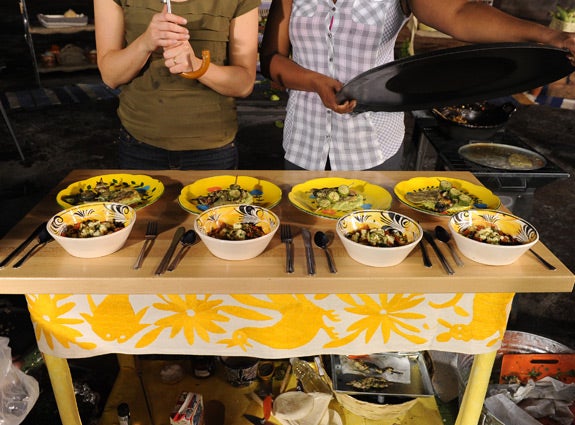 Tamar and Madison's Tacos de Rico y Dulce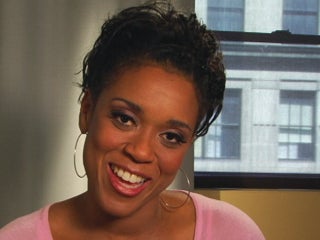 Final Thoughts from Angie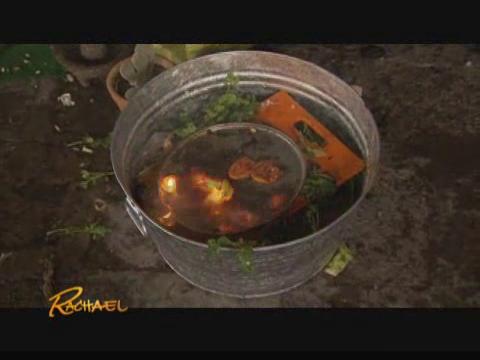 Donna and Tim's Surf and Turf with Sautéed Veggie Stack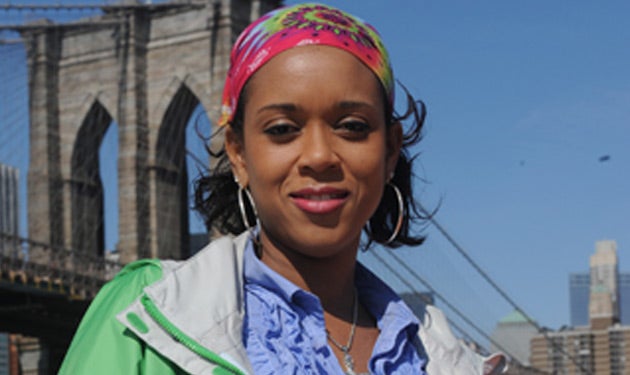 Hey, Can You Cook?! -- Angie Shaghaghi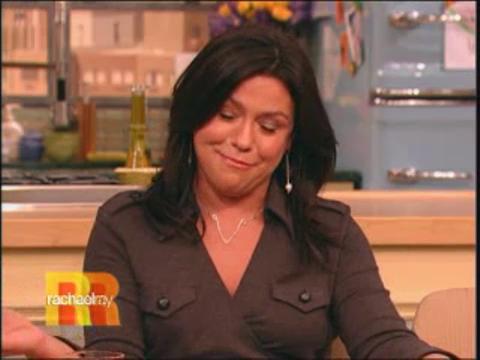 Angie Harmon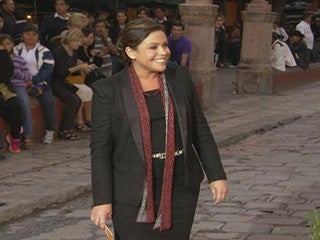 Hey, Can You Cook?! All-Stars: Elimination Challenge Part 1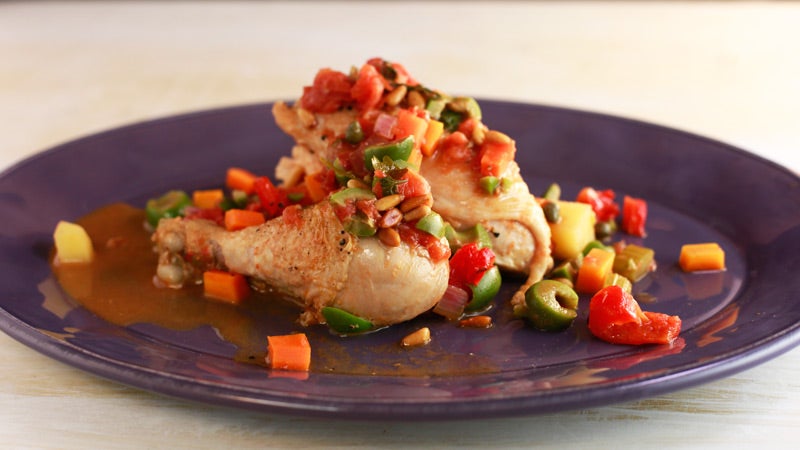 Sicilian-Style Sweet and Sour Chicken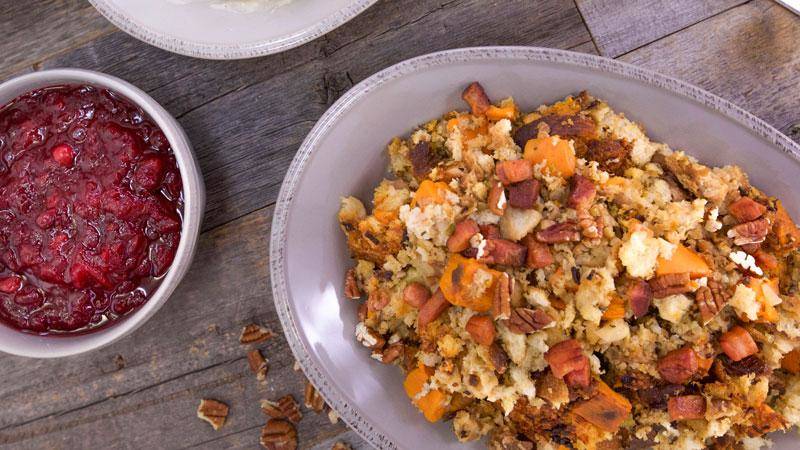 Clodagh McKenna's Sweet Potato, Maple and Bacon Stuffing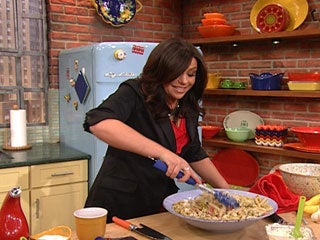 Penne with Grilled Summer Squash and Sweet Corn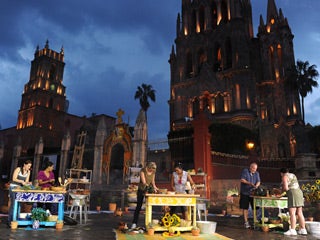 Hey, Can You Cook?! All-Stars: Elimination Challenge Part 2
Ingredients
For the Salad
1 roasted red pepper, julienned
1 cucumber, seeded and julienned
1 teaspoon red pepper flakes
For the Dressing
4 tablespoons orange juice
1 teaspoon fresh lime juice
A dash red pepper flakes
1 drop Agave syrup
1/2 cup canola oil
Salt and pepper
For the Guacamole
2 cloves garlic, salted and smashed
1/4 cup red onion, diced
1 teaspoon lime juice
1/4 cup cilantro minced
1/2 teaspoon cumin
3 avocados
Salt and pepper
For the Cactus Salad Dressing
1 drop Agave syrup
Salt and pepper
2 tablespoons lime juice
1 tablespoon orange juice
1/4 teaspoon red pepper flakes
For the Cactus Salad
2 grilled cacti, julienned
2 tomatoes, julienned
1 red pepper seeded and julienned
For the Tortilla Chips
Pot of oil
Corn tortilla, cut into 8 strips
For the Stew
3 tablespoons butter
1 large red onion, diced
A few cloves of garlic, diced
4 red bell peppers, quartered
4 yellow bell peppers, quartered
Salt and pepper
A pinch of cumin
1 chili pepper
1 corn cob, roasted in husk until charred and then diced
1 squash, roasted until charred and then diced
1 jalapeo, roasted until charred and then diced
1/2 cubed sausage
2 cups water
1 cup of black beans
1 pound of shrimp, deveined and peeled
Pumpkin seeds, for garnish
Preparation
For the Salad:
Combine salad ingredients in a serving bowl.
For the Dressing:In medium bowl, add orange and lime juice, red pepper flakes and agave syrup. Using a whisk, emulsify oil with the citrus mixture. Add salt and pepper to taste.
Pour over salad and toss to combine just before serving.
For the Guacamole:
Using a mortar and pestle, smash the garlic with a little salt. Add the onion, lime juice, agave syrup, cilantro, cumin and avocados. Continue to combine and smash. Add in salt and pepper to taste. Serve chilled.
For the Cactus Salad:
Mix all dressing ingredients together. Toss over cactus, tomato and red pepper in a large serving bowl.
For the Tortilla Chips:
Heat oil. Fry tortilla strips until golden and crispy.
Remove from oil and place on a paper towel. Pat dry and salt immediately.
For the Stew:
In a large pot, melt butter. Add onion, garlic, pepper, salt and pepper and brown slightly. Add cumin, chili pepper, corn, squash and jalapeo and cook to soften. Add sausage, cook until browned then add water. Bring up to a boil then reduce heat to a simmer. Add beans, bring water to a boil then reduce to a simmer. Add shrimp and cook until shrimp turn pink. Serve in bowls garnished with pumpkin seeds.