Roast Turkey Breast with Citrus Pesto and Shallot Gravy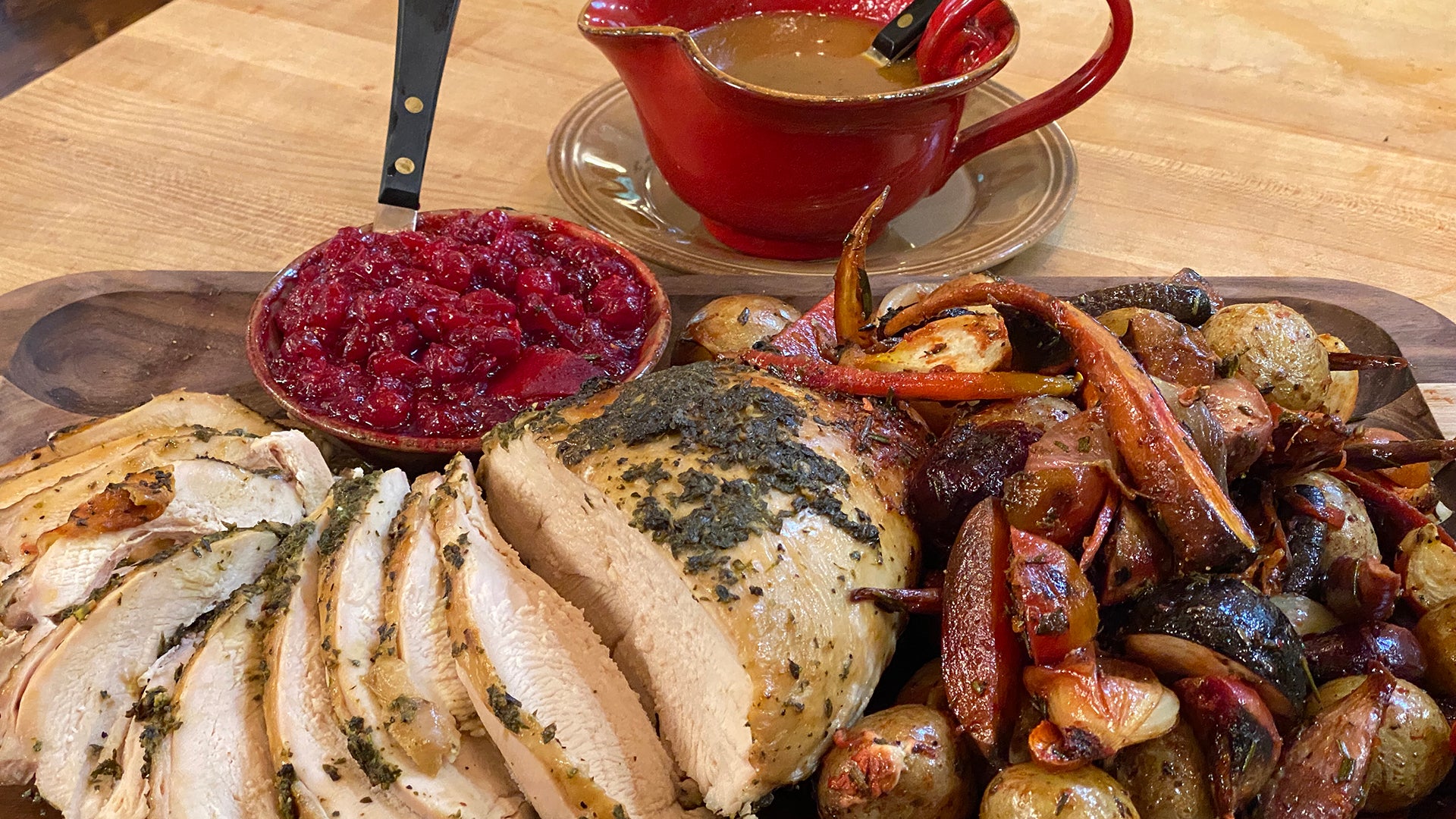 Thanksgiving Tray Bake: Turkey Breast + Roast Veggies With Worce…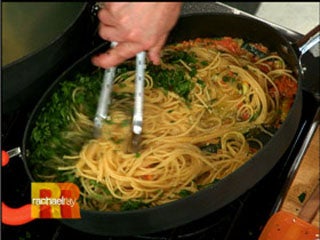 Citrus Spaghetti with Shredded Radicchio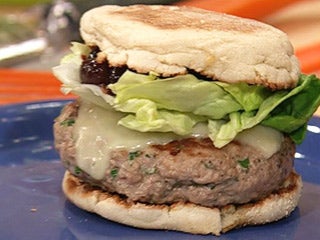 Turkey Burgers with Cranberry-Pomegranate Sauce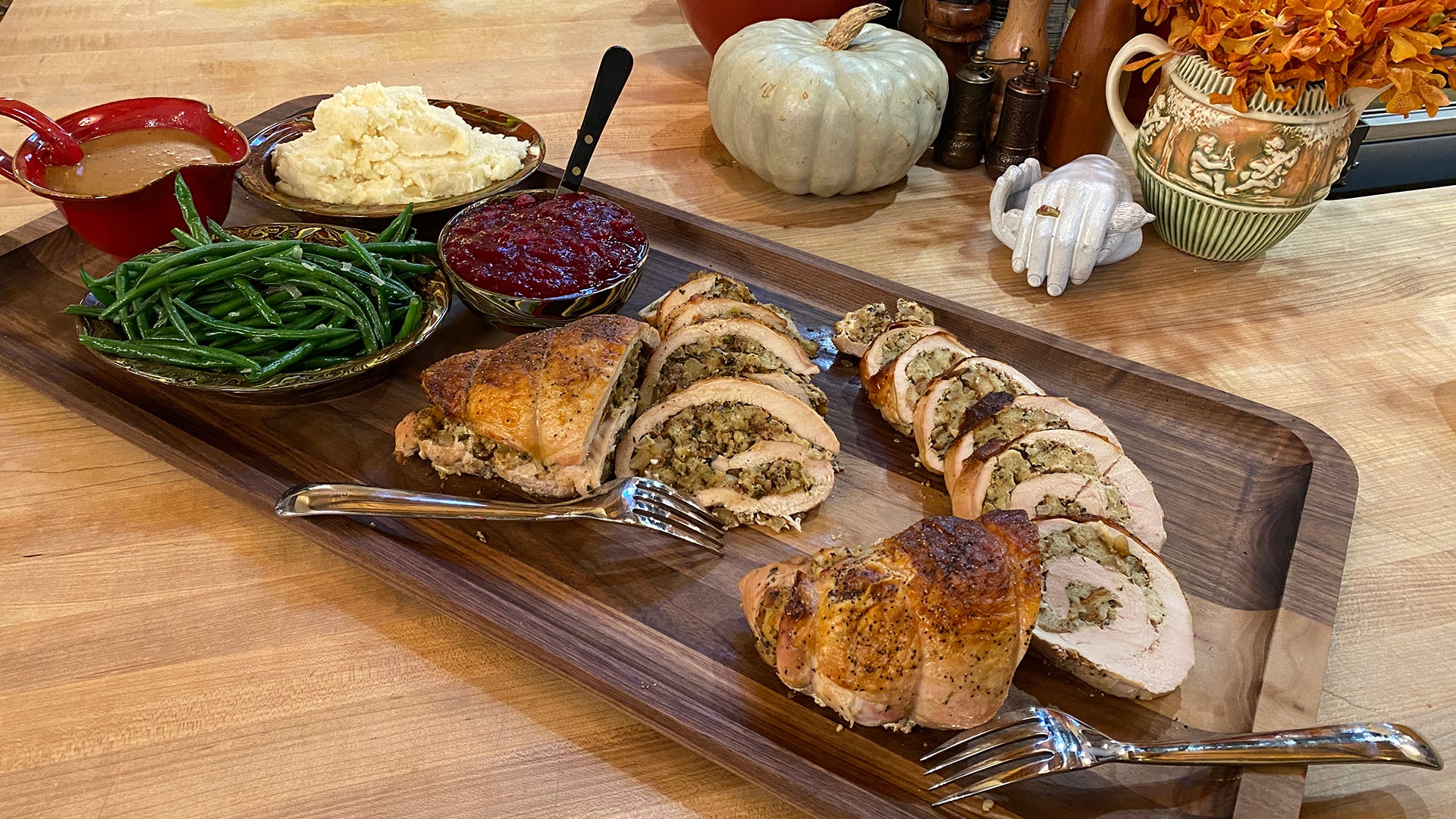 How To Make Turkey Breast Roulade and Simple Gravy | Rachael Ray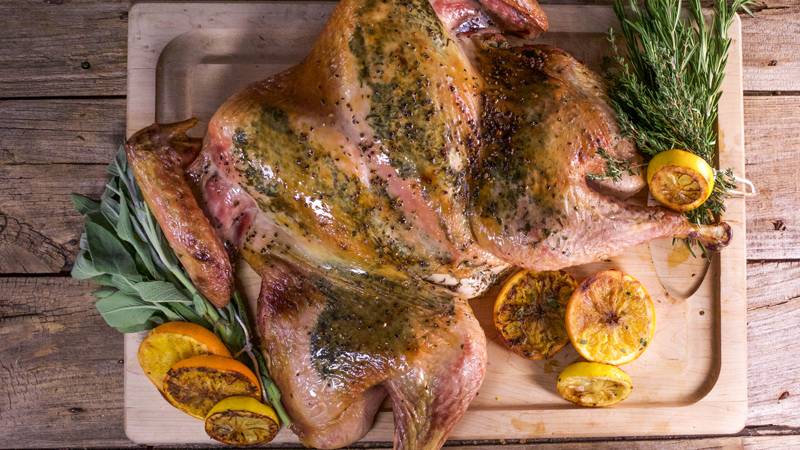 Citrus and Herb Spatchcock Turkey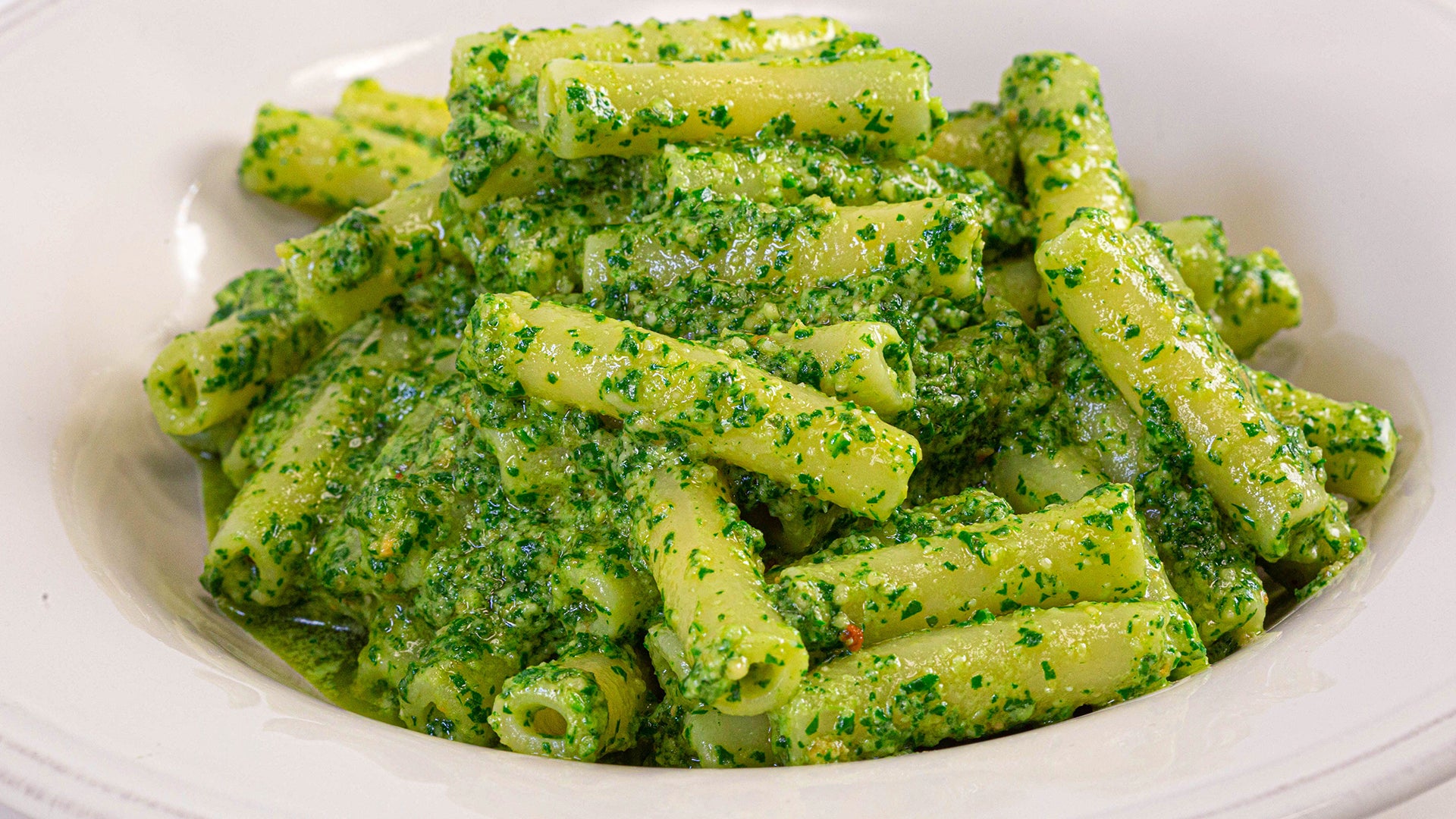 How To Make Ziti with Arugula Pesto and Parmigiano-Reggiano By G…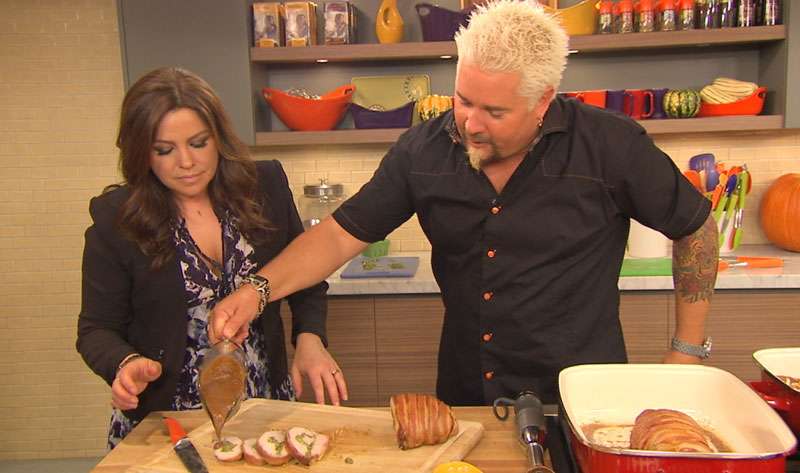 Guy Fieri's Mexican Stuffed Turkey Breast Wrapped in Bacon with …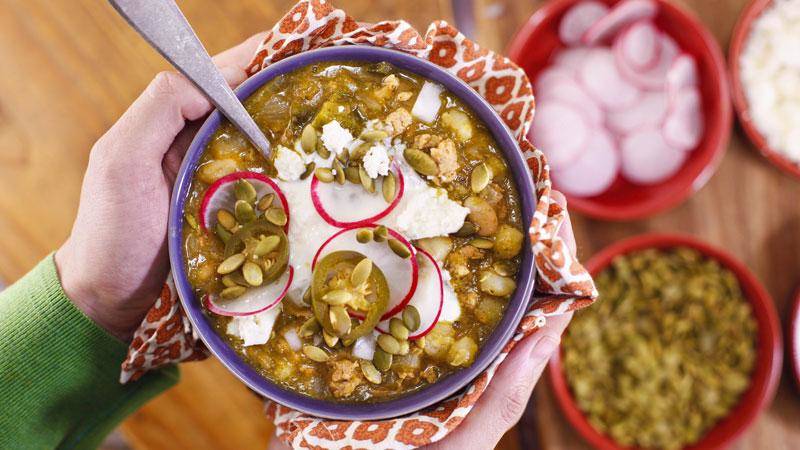 Turkey and Roast Poblano Chili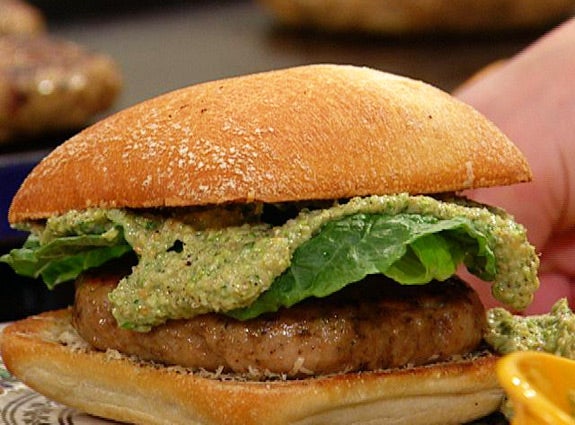 Chicken or Turkey Burgers with Caesar Pesto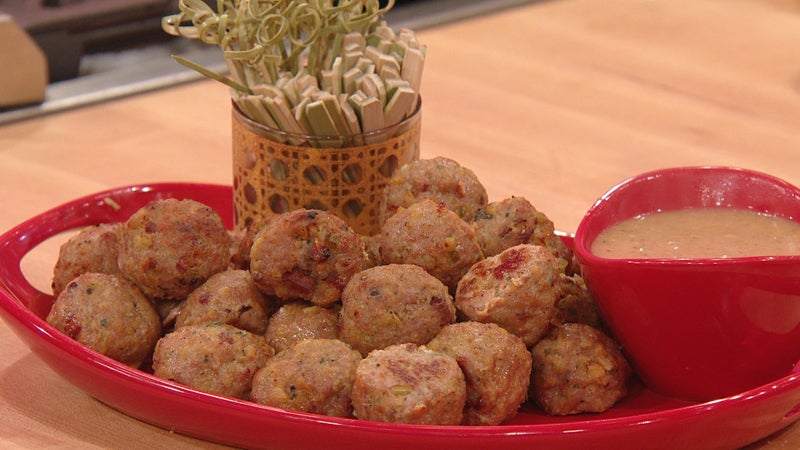 Turkey & Bacon Meatballs with Maple-Dijon Gravy
Ingredients
1 cup (a large handful) flat-leaf parsley leaves
6 sprigs thyme, leaves removed
2 tablespoons chives, roughly chopped
1 cup pistachio nuts, toasted
Zest of 1 orange
Zest of 1 lemon
1/2 cup EVOO Extra Virgin Olive Oil, divided
Salt and ground black pepper
1 boneless, skin-on turkey breast (about 5 pounds)
2 pounds baby potatoes, halved
1 1/2 pounds Brussels sprouts, halved
1/2 cup grated Parmigiano Reggiano cheese
4 tablespoons butter
4 shallots, peeled and finely chopped
3 tablespoons flour
2 cups chicken stock
1/2 cup heavy cream
Preparation
Preheat oven to 400F.
In a food processor, combine the parsley leaves, thyme leaves, chives, nuts, orange and lemon zest. Process until well chopped then stream about 1/4 cup EVOO into the machine while it's working to combine everything together. Season the pesto with salt and pepper.
Loosen the skin of the turkey breast by gently working your hand between the skin and the meat. Rub the pesto under the skin, season the outside with salt and pepper and transfer to a baking sheet. Drizzle with 2 tablespoons EVOO and transfer to the oven. Roast until deep golden brown and cooked through, 45-50 minutes.
Turn the potatoes and Brussels sprouts out onto a baking sheet, drizzle with 2 tablespoons EVOO and season with salt and pepper. Place all the veggies cut-side down on the baking sheet and roast in the oven until tender, about 20 minutes. When the veggies have about 3 minutes left to roast, take them out and toss them with the grated Parmigiano Reggiano. Return them to the oven to brown up a bit.
While the turkey and veggies are roasting, place a medium saucepan over medium heat to melt the butter. Add the shallots to the pan and cook until tender, 4-5 minutes. Sprinkle the flour into the pan and cook for about 1 minute. Whisk the chicken stock and cream into the pan and simmer until thickened, 2-3 minutes. Season with salt and pepper.
To serve, slice the turkey breast and serve with the roasted veggies, shallot gravy and Cran-Marnier Sauce.