Cauliflower-Cheddar Soup with Ham and Spicy Mustard Pinwheel Dip…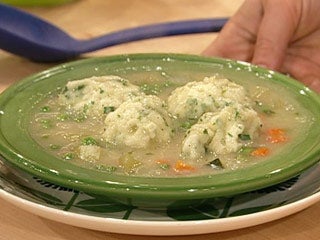 Vegetable Soup with Dumplings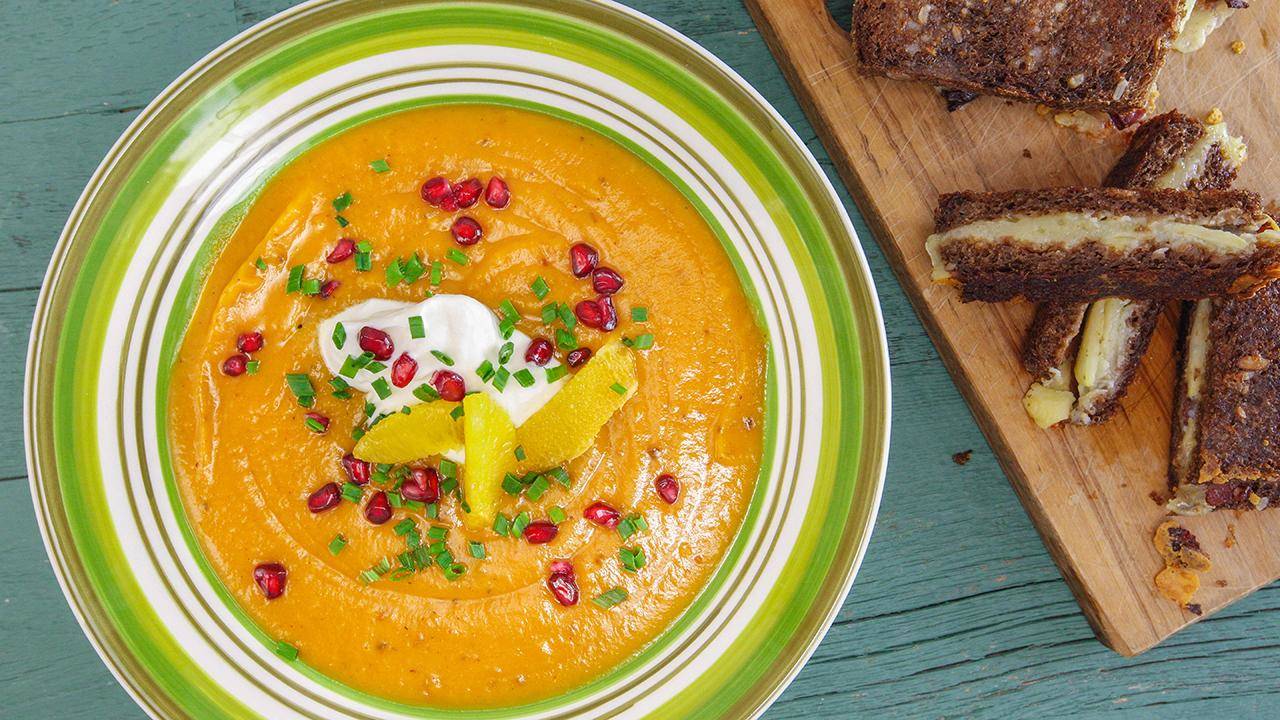 Butternut Squash Soup with Oyster Mushroom Chips and Grilled Che…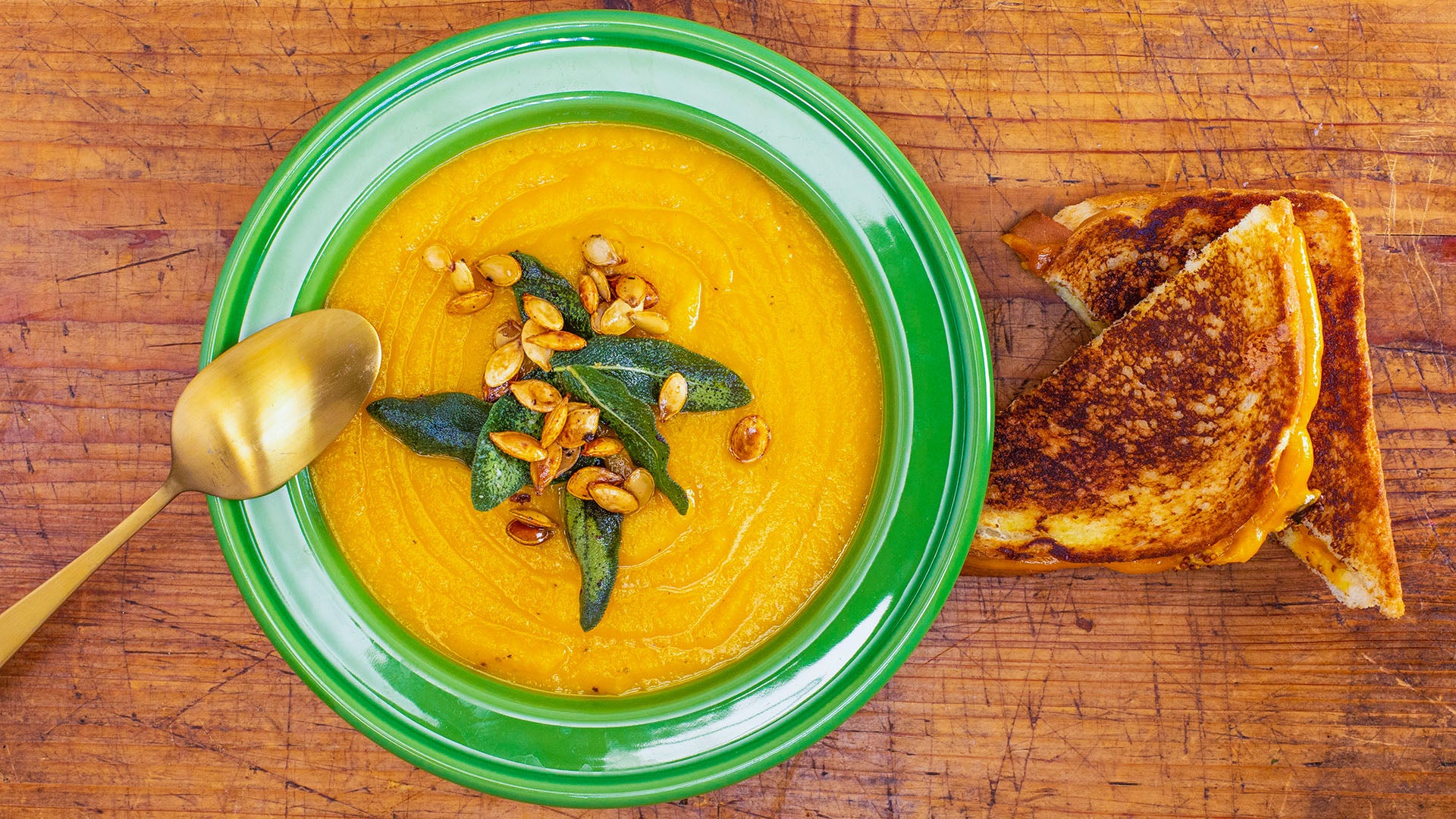 How to Make Cheese Pumpkin Soup and Grilled Cheddar Cheese Sandw…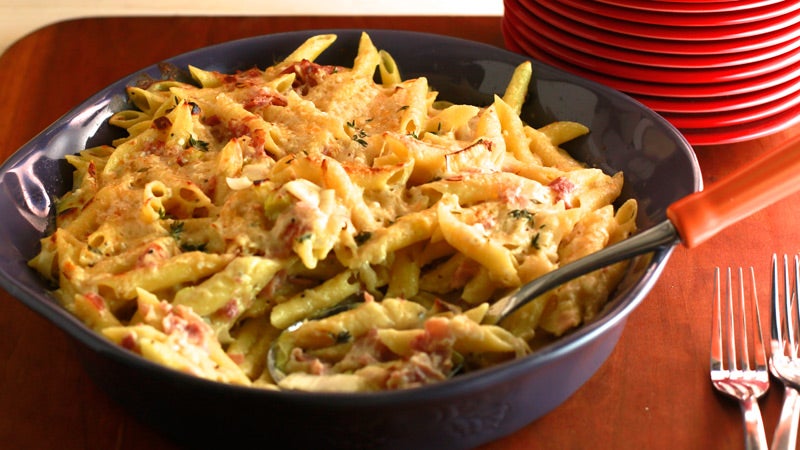 Mac & Cheese with Leeks and Ham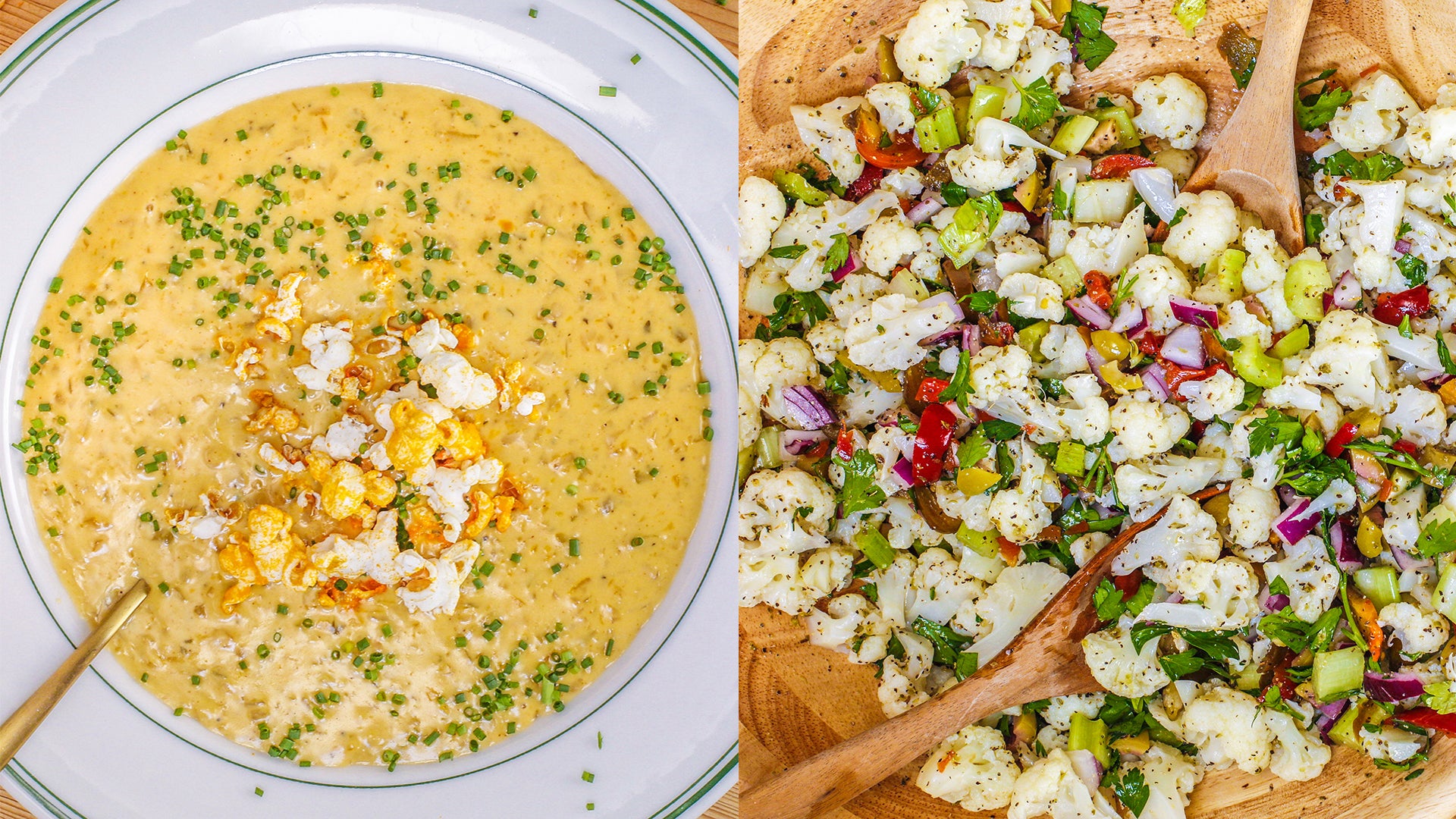 Rachael's Beer Cheese Soup and Cauliflower Salad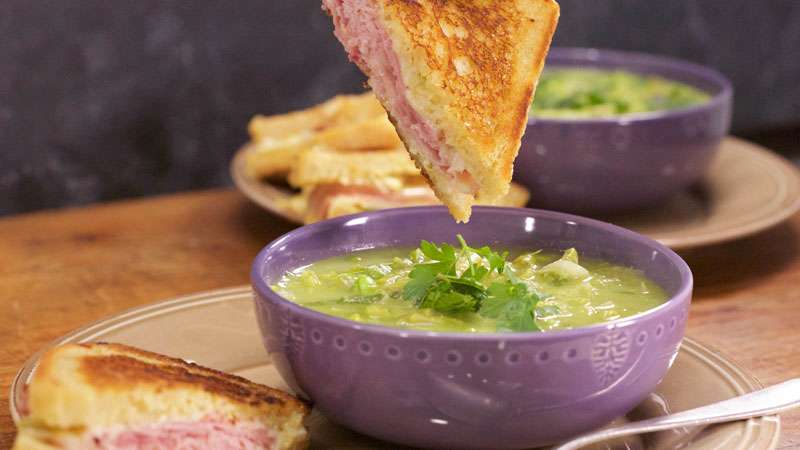 Asparagus and Pea Spring Soup with Grilled Ham 'N Cheese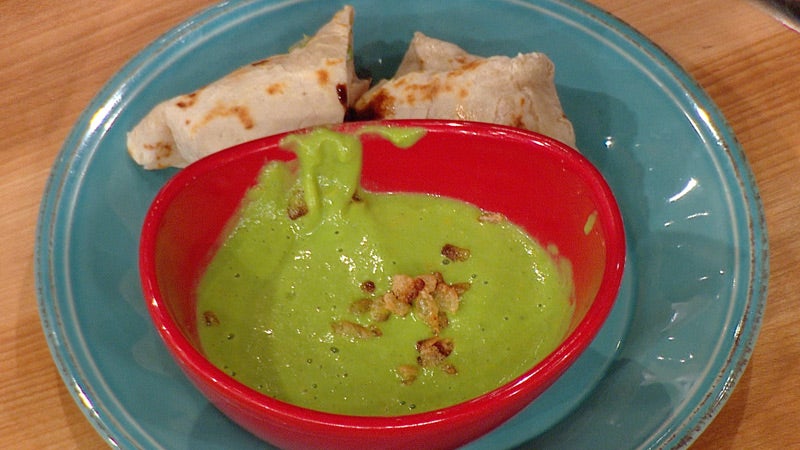 Jeff Mauro's Chicken Salad Wrap with Turbo Broccoli Cheddar Soup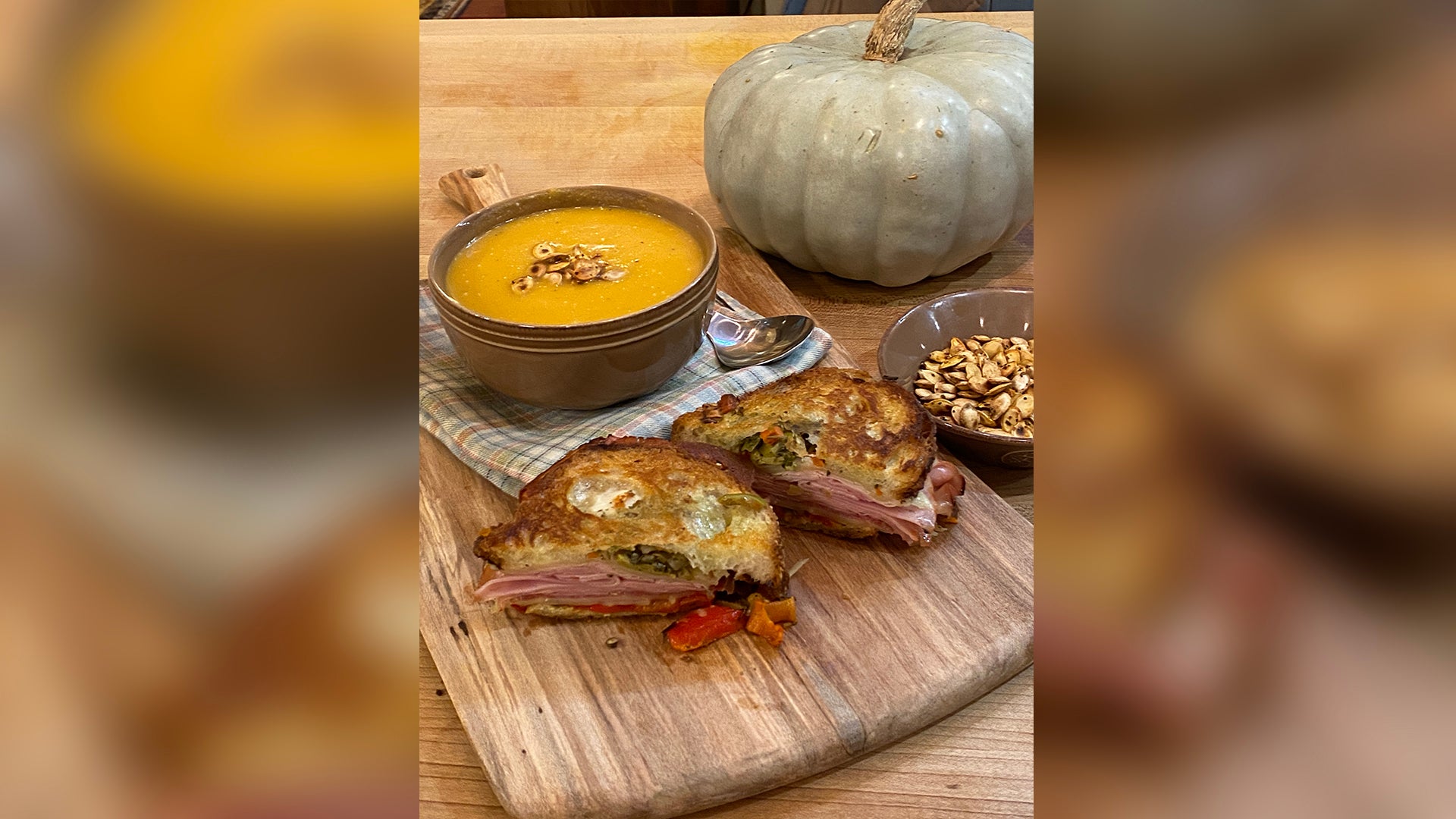 How To Make Pumpkin Soup and Muffaletta Grilled Cheese | Rachael…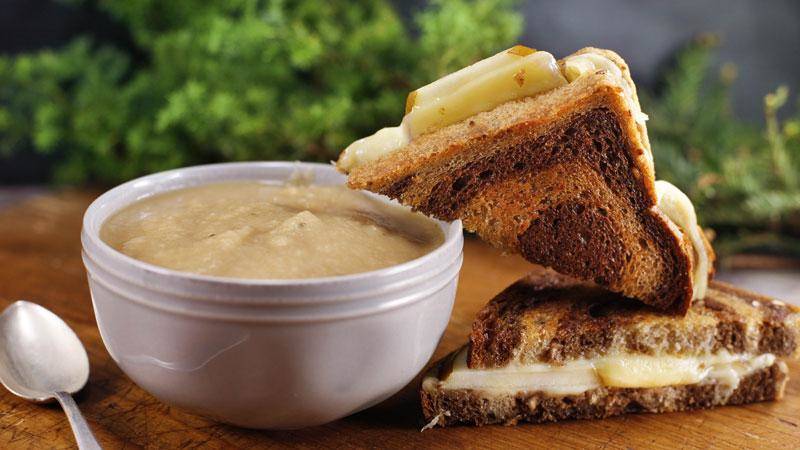 Potato-Parsnip Soup with Grilled Cheese and Pears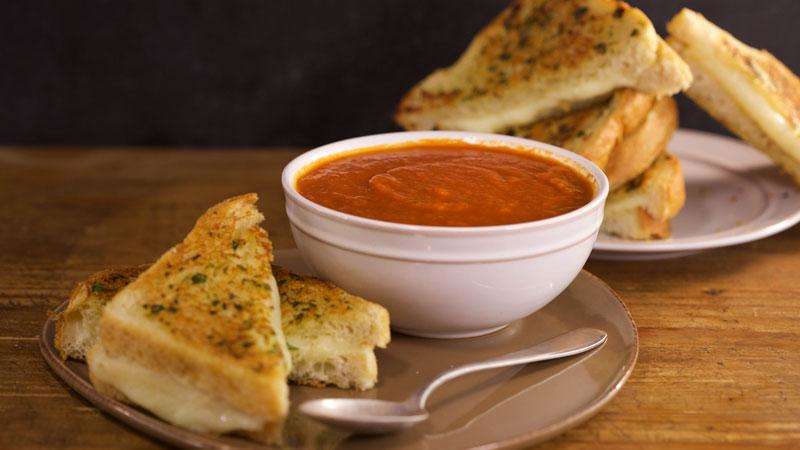 Spicy Tomato Soup and Garlic Bread Grilled Cheese Sandwiches
Ingredients
1 head cauliflower, cut into florets
Salt
2 tablespoons EVOO - Extra Virgin Olive Oil
4 tablespoons butter, divided
1 medium onion, finely chopped
3 cloves garlic, grated or finely chopped
Pepper
3 tablespoons flour
1 quart chicken stock
1 cup whole milk or half-and-half
4 slices pumpernickel sandwich bread
8 deli slices rosemary ham
6 tablespoons spicy brown mustard, divided
2 1/2 cups good quality, aged, sharp cheddar cheese, grated
A few grates of nutmeg
1/4 cup chopped chives
Preparation
Preheat oven to 375F.
Bring a couple of inches of water to a boil, add cauliflower, salt and cook until tender. Drain, puree and reserve.
Place a large saucepan over medium-high heat with 2 turns of the pan of EVOO, about 2 tablespoons. Add 2 tablespoons of butter and melt, then add the onion and garlic, season with salt and pepper, and cook until tender, 4-5 minutes.
Sprinkle the flour over the onions and cook for about 1 minute. Whisk in the stock and milk, bring up to a bubble, then reduce the heat to medium and simmer until thickened, about 5 minutes.
While the soup is simmering, place the bread slices on the counter, cut the crusts off and roll them flat with a rolling pin, a can or a wine bottle (whatever's handy). Spread each piece of bread with 1 tablespoon or so of mustard, then line each with 2 slices of ham, folding over or trimming the ham as necessary so that it doesn't hang over the edge of the bread. Starting at the long side of each slice, tightly roll the bread up into a log shape.
Melt a couple of tablespoons of butter. Place the roll-ups onto a baking sheet and brush the outsides with melted butter. Bake until toasty, about 7-8 minutes.
To finish the soup, whisk the cheese into the liquid, stirring until all the cheese has melted. Stir in cauliflower puree then turn off heat and stir in 2 tablespoons of mustard and the nutmeg. Adjust seasonings, adding salt and pepper to taste.
To serve, slice the pinwheel roll-ups on a very sharp bias, almost from end-to-end, making two pointy dippers to serve with the soup. Top each bowl with some of the chopped chives for garnish.