Emeril Lagasse's Super-Stuffed Shells with Spinach and Italian S…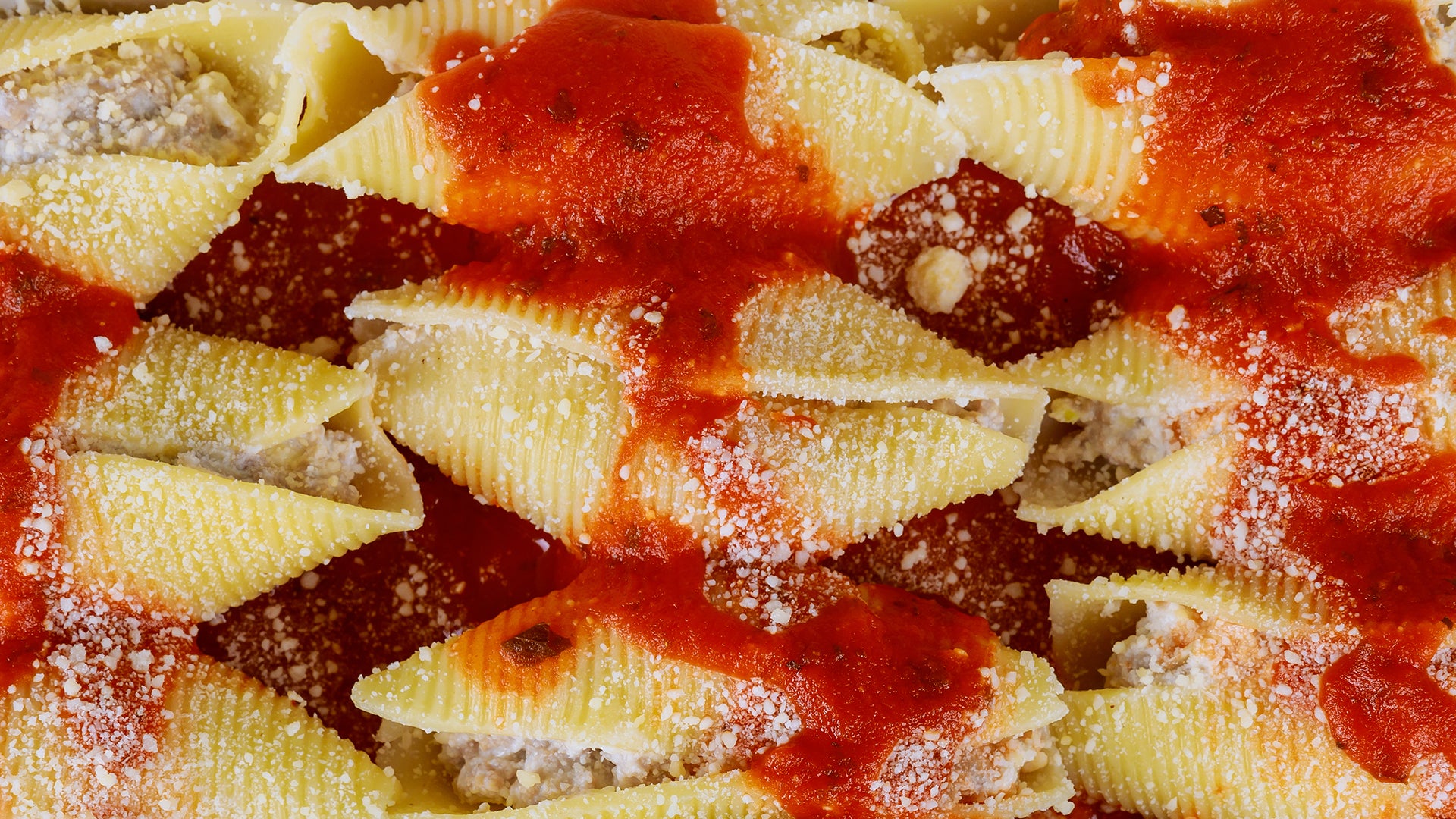 How To Make Sausage-Stuffed Shells | Kid-Friendly Recipe | Make-…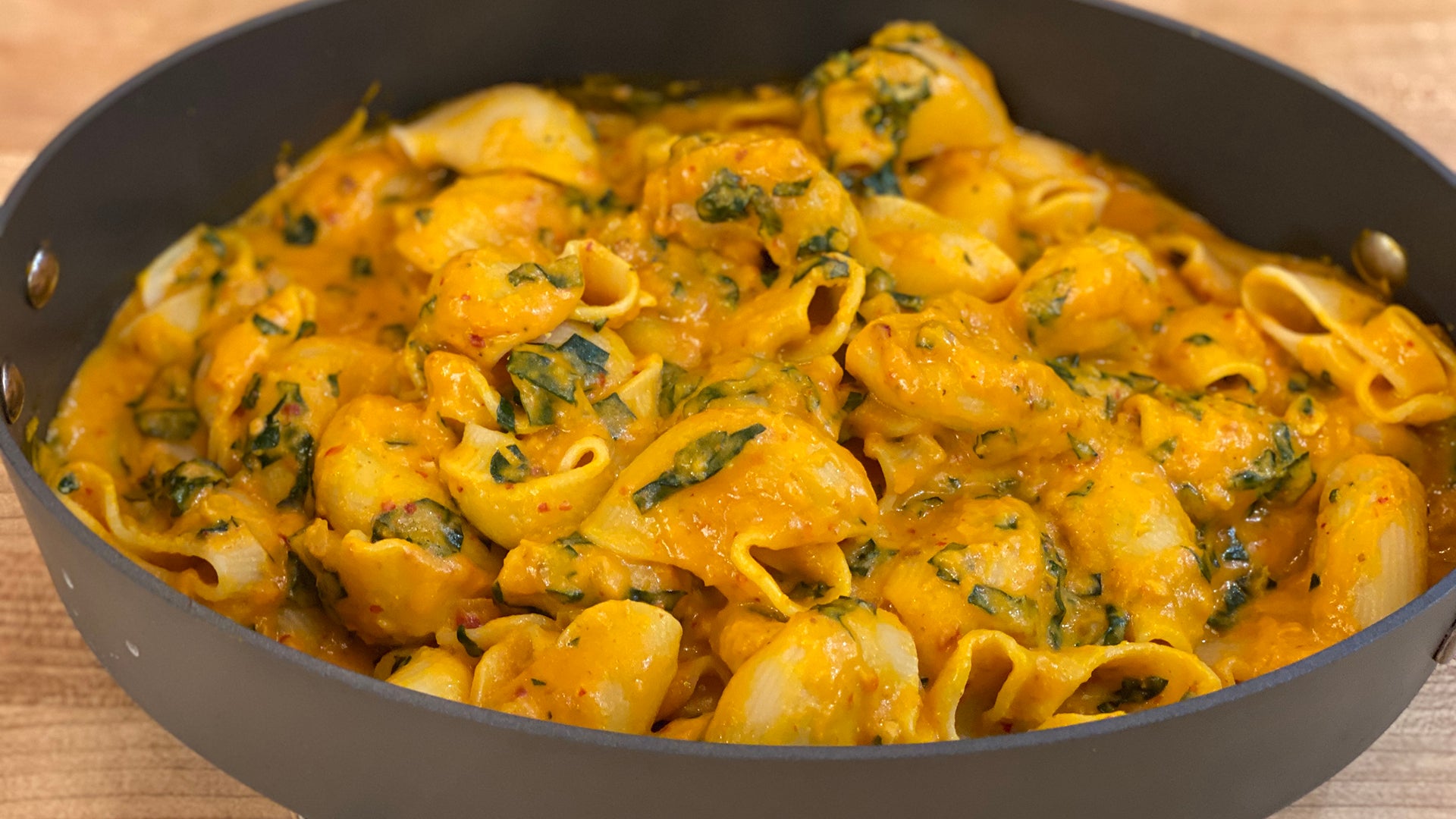 Pumpkin Vodka Cream Pasta with Spinach or Kale | Shells & Cheese…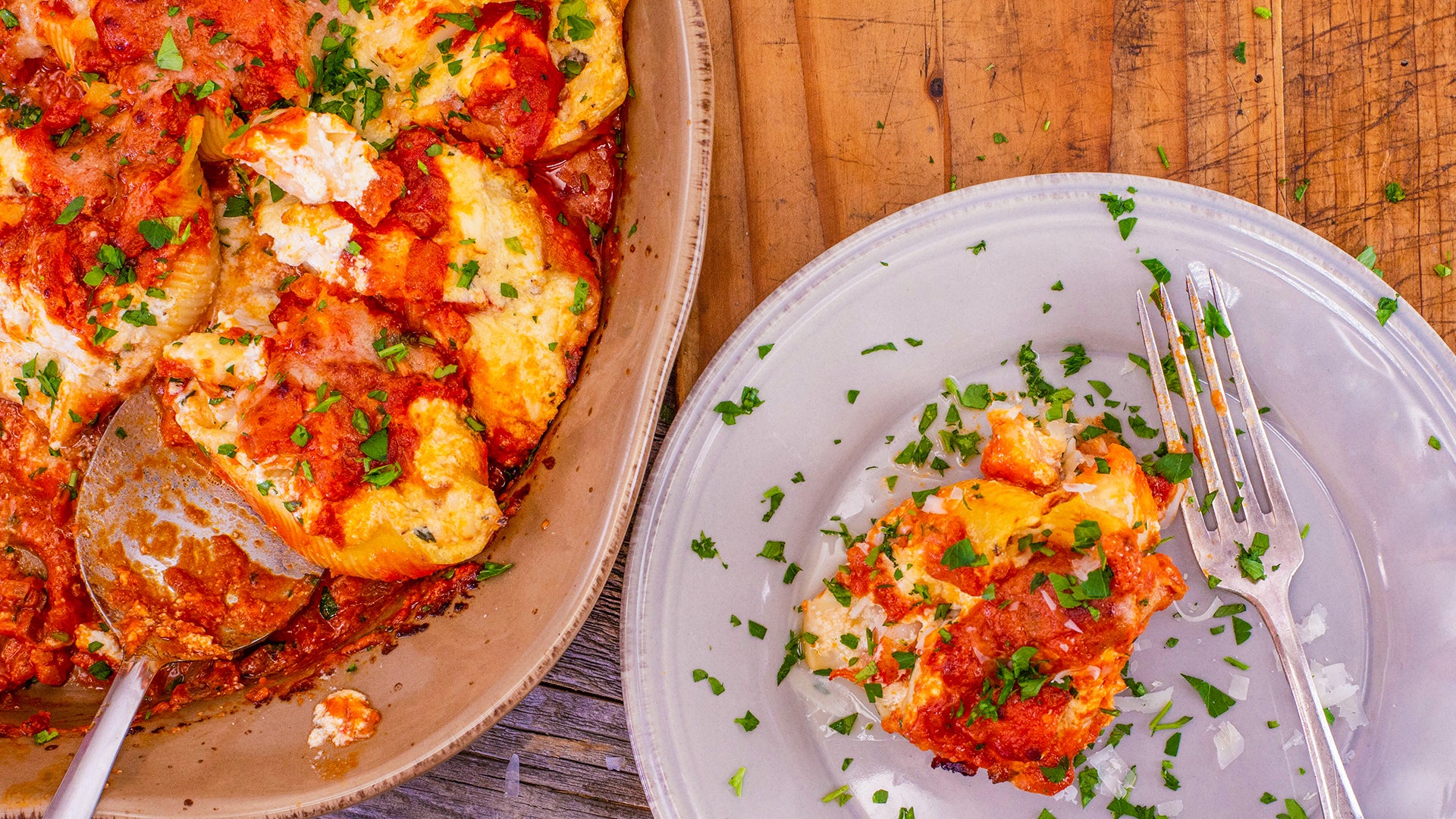 How To Make Seafood Stuffed Shells with Vodka Sauce By Rachael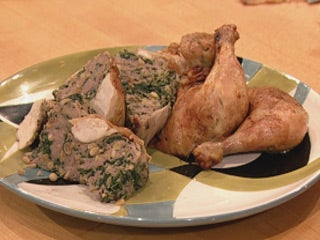 Sausage and Spinach-Stuffed Roasted Chicken with Roasted Garlic…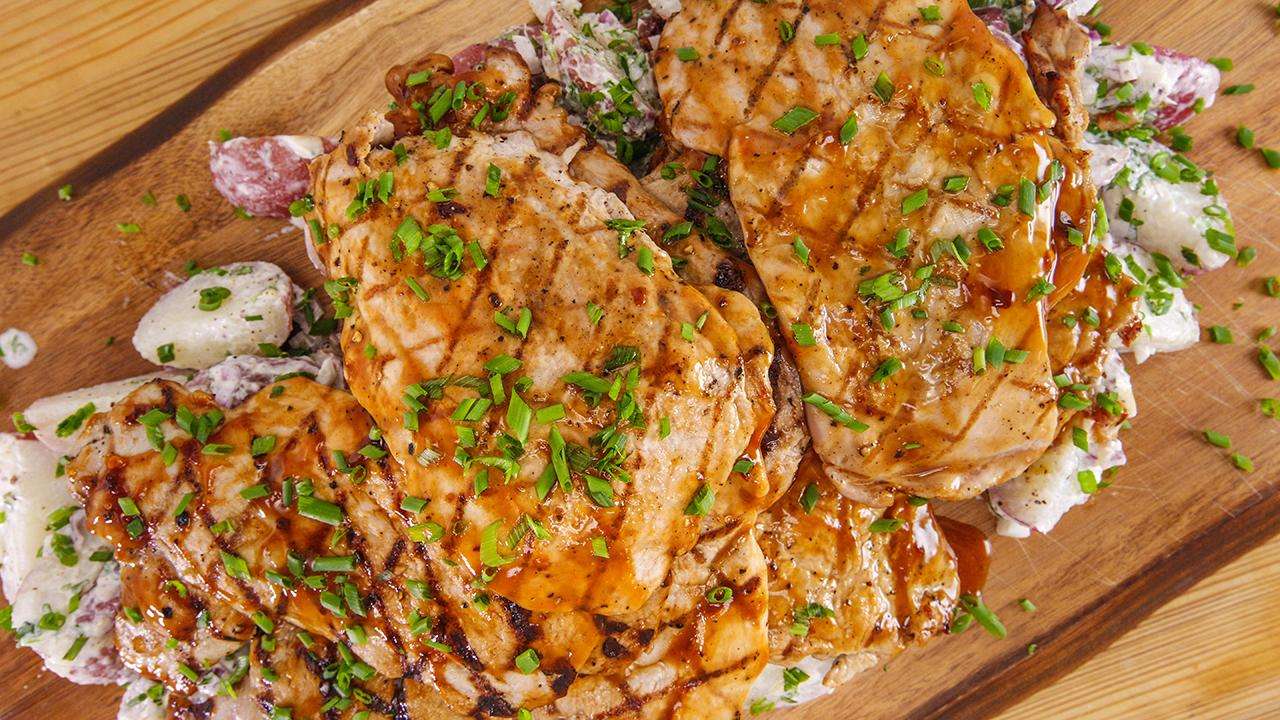 Emeril Lagasse's Grilled Pork Cutlets with Homemade BBQ Sauce an…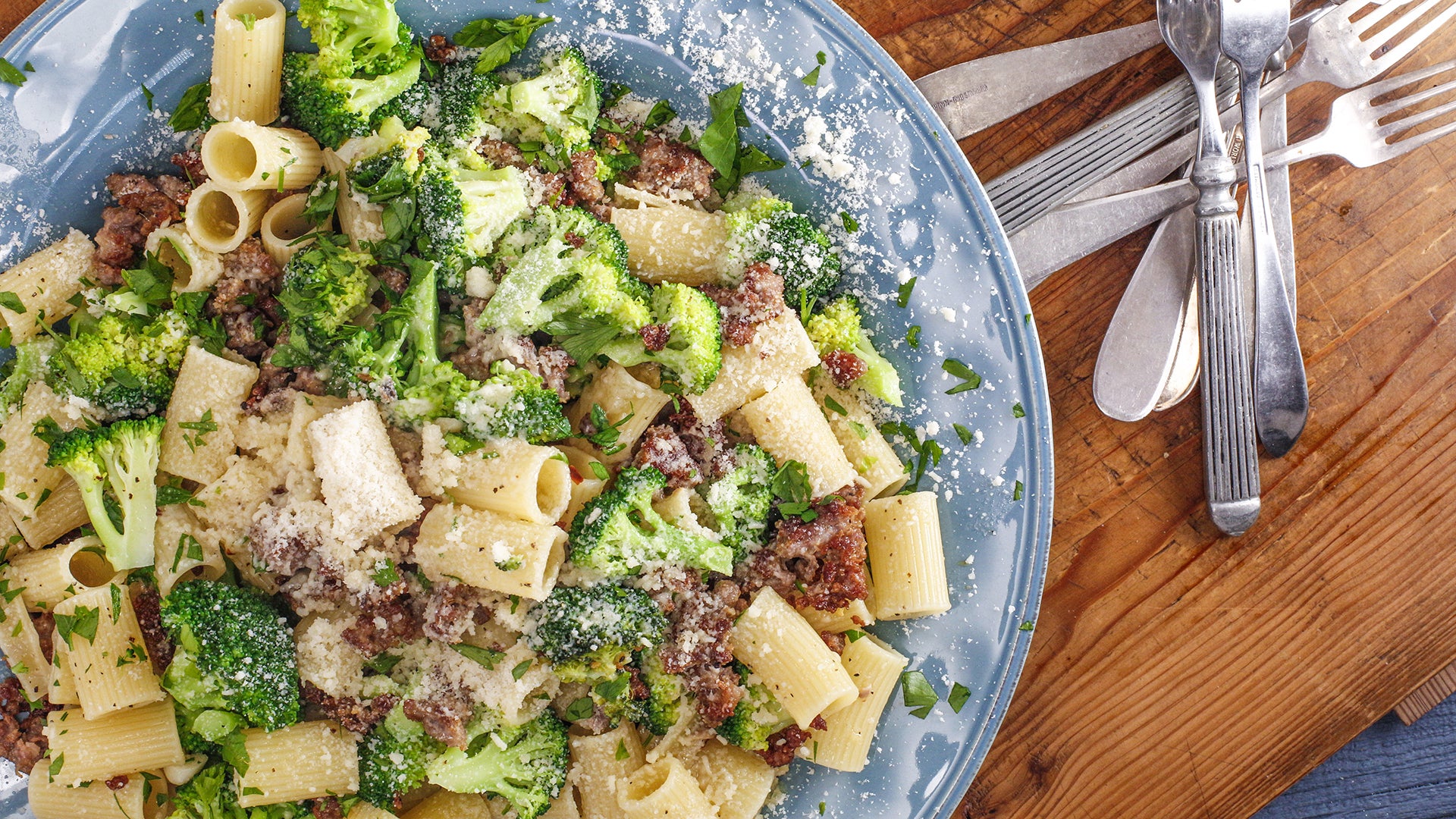 Emeril's Rigatoni with Broccoli and Italian Sausage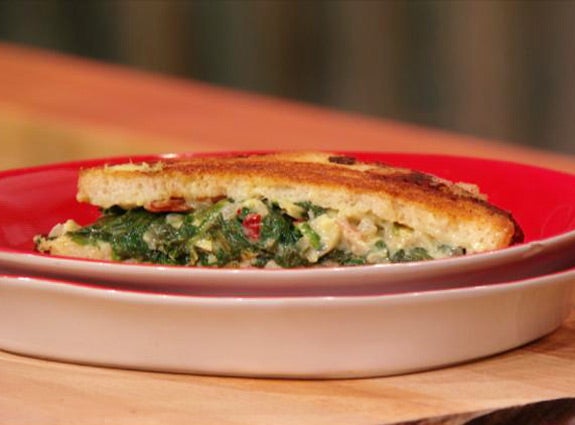 Emeril Lagasse's Grilled Spinach Artichoke Dip Sandwich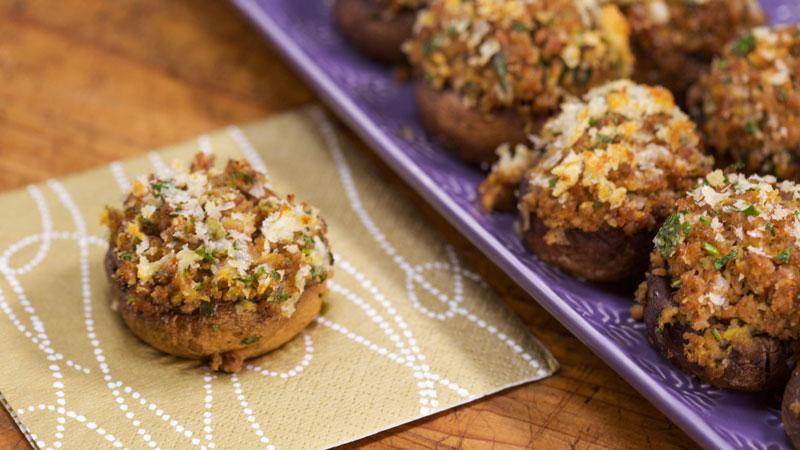 Emeril Lagasse's Sausage-Stuffed Mushrooms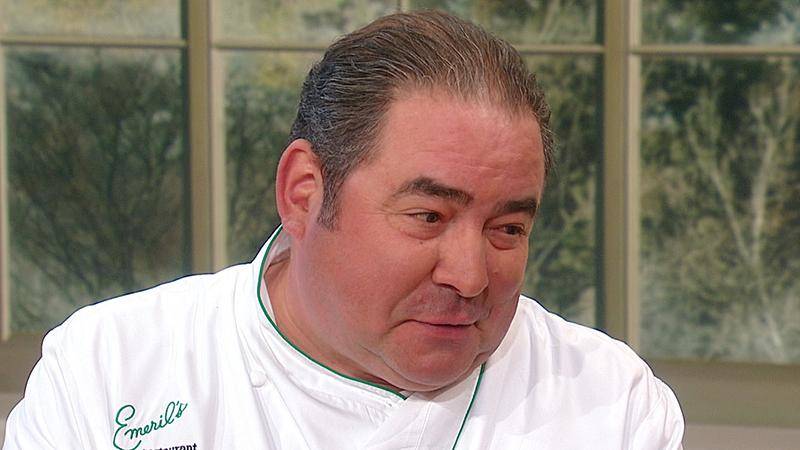 Emeril's Make-Ahead Stuffed Shells + We Chop Off a Man Bun Right…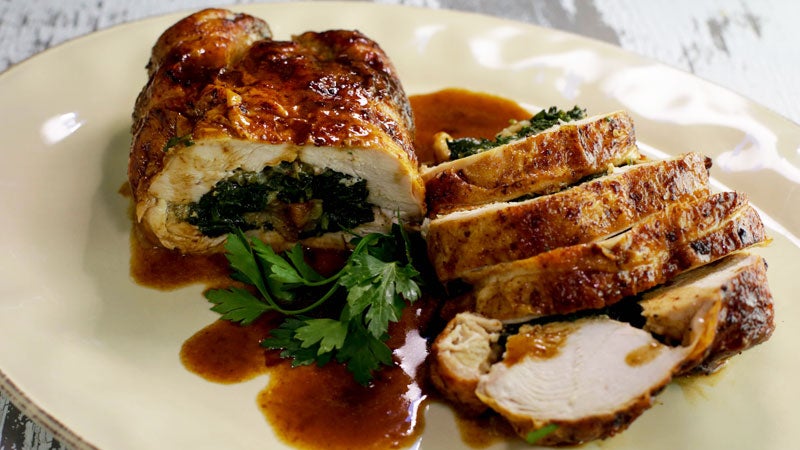 Jacques Pepin's Chicken Ballotine Stuffed with Spinach, Cheese a…
Ingredients
For Emeril's Basic Tomato Sauce:
1 tablespoon olive oil
3/4 cup chopped yellow onions
1 teaspoon minced garlic
1/4 teaspoon salt
1/4 teaspoon dried basil
1/4 teaspoon dried oregano
1/8 teaspoon ground black pepper
1 28-ounce can whole peeled tomatoes, broken into pieces and their juices
1 15-ounce can tomato sauce
4 teaspoons tomato paste
1 cup chicken stock or water
1/2 teaspoon sugar
For the Stuffed Shells:
1 teaspoon plus 1 tablespoon olive oil
1 1/2 teaspoons salt, divided
1/2 12-ounce box (18 to 20) jumbo pasta shells
2 cups finely chopped onion
2 teaspoons minced garlic
1 pound fresh Italian sausage, removed from casings or ground veal
1 10-ounce package frozen spinach, thawed and squeezed dry
15 ounces ricotta cheese
2 large eggs
1 cup grated Parmesan cheese
2 cups grated mozzarella cheese, divided
1 tablespoon extra-virgin olive oil
1 teaspoon Emeril's Essence
1 teaspoon fresh basil, chiffonade
1 teaspoon fresh oregano, chopped
1/2 teaspoon ground black pepper
Preparation
For the sauce, heat the olive oil in a medium pot over medium heat. Add the onions, garlic, salt, basil, oregano and black pepper, and cook, stirring, until soft, 4 minutes. Add the tomatoes and their juices, tomato sauce and paste, water and sugar, and stir well. Bring to a boil then lower the heat to medium-low and simmer uncovered until thickened and fragrant, about 30 minutes, stirring occasionally. Remove from the heat and adjust the seasoning to taste.

Preheat the oven to 350°F. Lightly grease a 2-quart casserole dish with 1 teaspoon of olive oil.

Bring a medium pot of water to a boil. Add 1 teaspoon of the salt and the pasta shells, and cook until al dente, 10-12 minutes, stirring occasionally with a long-handled spoon to prevent the shells from sticking together. Drain and rinse under cold running water.
In a medium skillet, heat the remaining tablespoon of olive oil over medium heat. Add the onions and garlic, and cook, stirring, until very soft, 6-7 minutes. Add the sausage and cook, stirring, until browned. Add the squeezed spinach and cook for 3 minutes. Remove from the heat and season to taste with salt and pepper.
In a large bowl, combine the ricotta cheese, eggs, Parmesan cheese, and 1 cup of the mozzarella cheese. Add the spinach-sausage mixture, the extra-virgin olive oil, Essence, remaining 1/2 teaspoon salt, the basil, oregano, and pepper, and stir to combine thoroughly. Spoon about 2 tablespoons of the spinach-ricotta filling into each cooked pasta shell. Place the filled shells in the prepared dish.
Pour tomato sauce over the filled shells and top with the remaining 1 cup of mozzarella cheese. Bake, uncovered, until bubbly, about 20-25 minutes. Remove from the oven and let rest for 5 minutes before serving.
MORE
:
Melissa d'Arabian's Stuffed Shells
Baked Shells Casserole
Unstuffed Shells